Do you want to make bread, without really having to put in the effort? Well, then you've come to the right place!
This no-knead bread is your personal sims-styled cheat code to easy and effortless bread. These buns or rolls if you'd like are;
mixed in a large bowl with a wooden spoon – so no special equipment or kneading needed (goodbye to dough under your fingernails)
require 2 minutes of semi-active effort (I've made them before bed, half-asleep)
are a little crunchy on the outside, but super moist on the inside.
did I mention effort-less?
In my YouTube video, I showed you my "base recipe" for my no-knead bread as well as my 3 favorite variations. In this blog post, we'll take a closer look at my sweet and crunchy müsli buns filled with all the good stuff.
Feel free to experiment and make the recipe your own 💛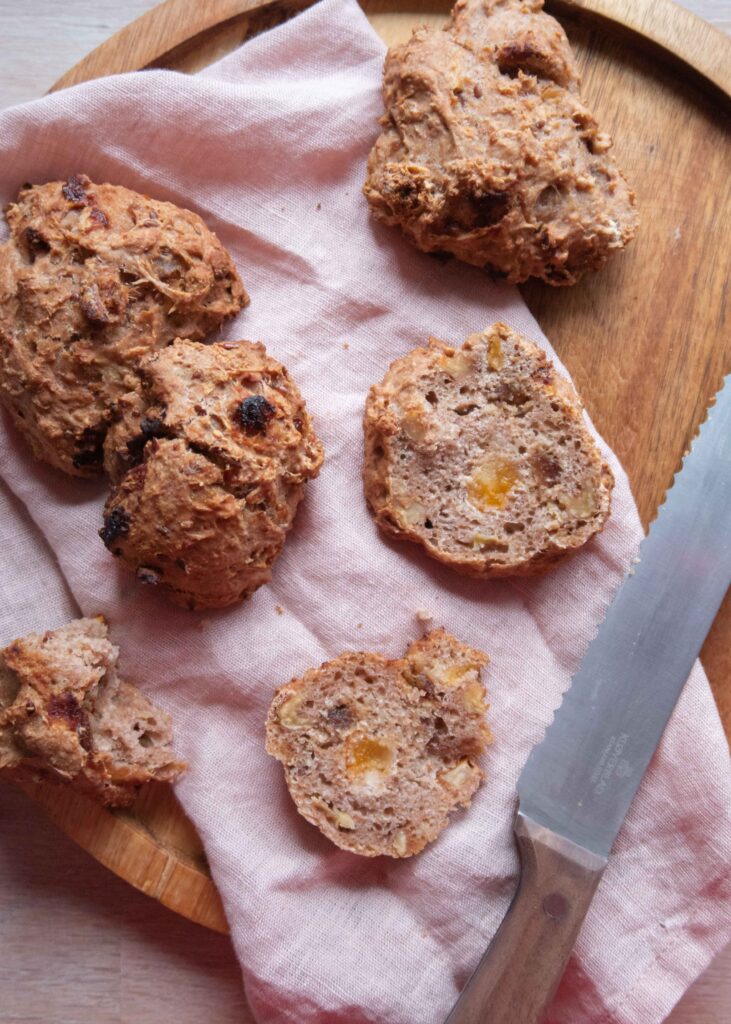 A little note about yeast
In my recipe, I'm using fresh yeast as it is the most common in Denmark and I feel most comfortable using this. If you want to use dry yeast or instant yeast, then go ahead and do so! Just make sure to use the right amount and follow the instructions on the packaging. Here, you'll find a yeast conversation table, but google is your best friend.
xoxo,
Milena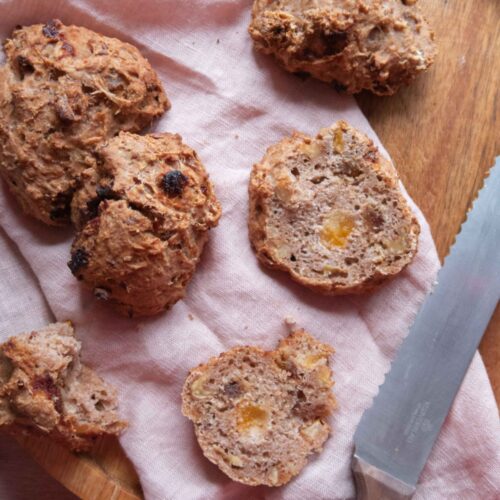 No-Knead Overnight Müsli Rolls
Ingredients
12-15

g

fresh yeast

1/2

liter

water

250

g

grated apples or zucchini

about 2 apples or 1 zucchini

2-3

tbsp sunflower oil

1-2

tbsp honey or sugar

100-150

g

dried fruits

raisins, dates, apricots

50-70

g

walnuts

2

tbsp chia seeds

2

tbsp flaxseeds

2

dl

old-fashioned rolled oats

2

dl

whole wheat flour

approx. 6-7 dl all-purpose flour

2

tsp salt
Instructions
In a large bowl, crumble the fresh yeast and pour in the cold water. Let it sit for a couple of minutes until the yeast has dissolved.

When the yeast has dissolved, add the honey, oil, and the grated fruit or veggie. If you use nuts or dried fruits, chop them into smaller pieces and add them to the dough. Mix well.

Add 2 dl of the all purpose flour as well as the salt and give it a careful stir, as not to squash the feta pieces. From here, you're going to add more all purpose flour a little bit at a time, until you've reached the right consistency. You'll want it to be firm and hard to mix, kind of like a very thick oatmeal.

Cover the bowl tightly with plastic wrap and let it rise overnight.
The Next Day
Preheat the oven at about 200-220° and put some parchment paper on your baking sheet.

Take two spoons and use these to make random bun shapes.

Bake the buns for around 6 minutes, before turning the heat down to about 180°. Bake for 12-15 minutes, until the buns are golden and crisp on the outside, but fluffy on the inside.

If you are unsure, you can remove one roll and tap underneath. If there is a hollow sound it means it is baked.

Let them sit for a while, before eating. Enjoy right away or freeze down for future use